3D Exercise - Fairy Tale Monsters
As part of their 4th year of study at MoPA, students practised making 3D characters.
As part of their 4th year of study at MoPA, students practised making 3D characters. This exercise is done at the beginning of the year, and aims teach students how to use Maya and Arnold rendering software, but also other programmes such as Yeti or Marvelous Designer. They have to transform a character from a fairytale into a horrific character, a monster.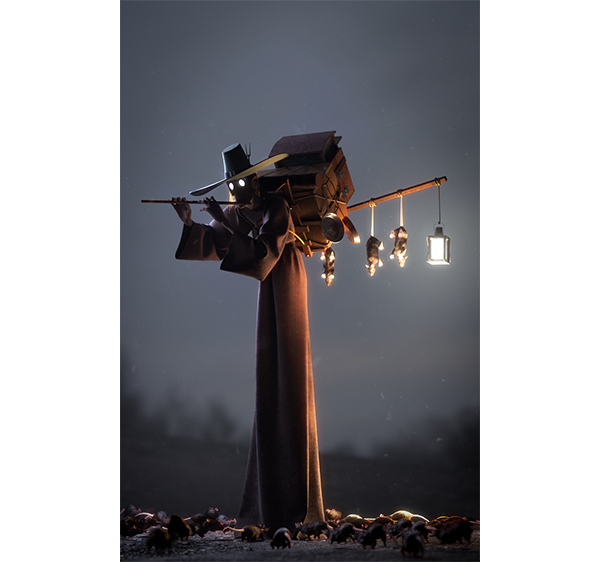 Matéo Grossi - The Pied Piper of Hamelin

Our animation school student used one of the Brothers Grimm tales with the same name "The Pied Piper of Hamelin" as a reference.

Discover more of Matéo's work on his Instagram profile.
Lou Thoby - Pinnochio

"I chose Pinocchio because I wanted to revisit the idea of puppets and wood. This way I could "disjoint" my character to give it a dynamic yet disturbing form. I wanted to work on my surfacing in a more procedural way, using Substance Painter software only for black and white masks. Since I had hardly ever used most of this software before this exercise, having a fairly free character like him allowed me to experiment, especially with rendering wood and skin together."
Check out more of our MoPA student's productions on her Artstation profile or her Instagram page.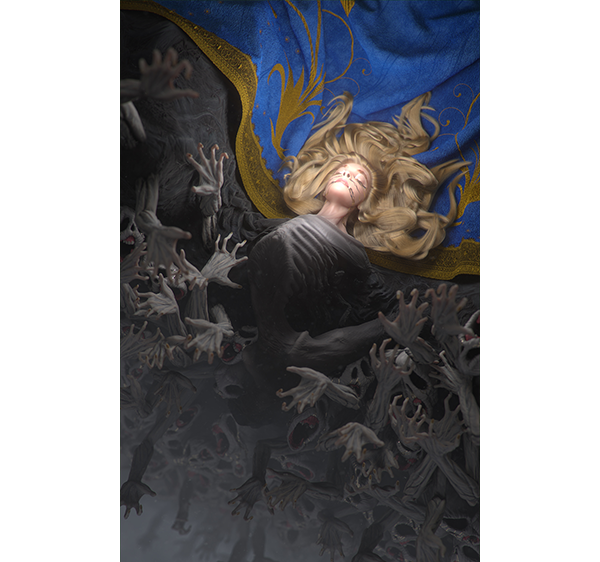 Hugo Paties - Sleeping Beauty

"I chose Sleeping Beauty because time and eternity are themes that resonate with me. From the start I wanted to make a dry character, as if it had been left there forever, since Sleeping Beauty sleeps for 100 years in the original tale. So I wanted to merge her with the vegetation because, also in the tale, the brambles cover the entire castle over that century. Unsatisfied at this point, I looked more into the tale and decided to focus on the idea of eternity and transformation. I realised that the curse of Sleeping Beauty didn't just affect her, but the whole castle and its inhabitants. So I said to myself that I would create a princess who is eternally beautiful, but whose curse condemns the lives of all those around her to an endless nightmare. Then I thought about different references I could take inspiration from, from Munch to Dark Souls to MeatCanyon"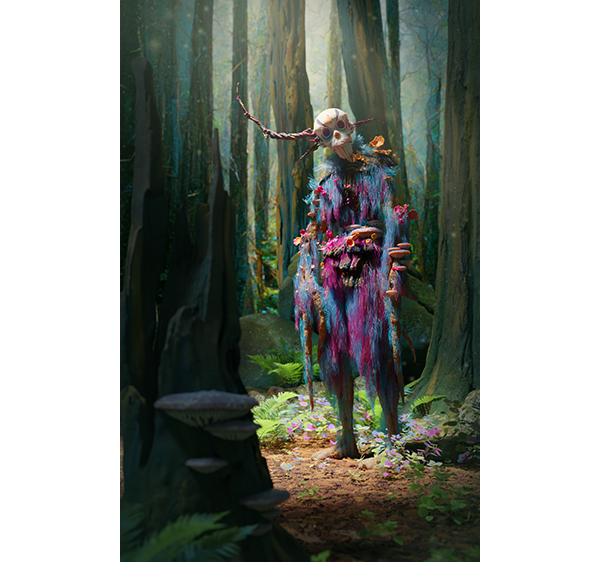 Pablo Jegado - Wendigo

I chose the Wendigo, an evil and cannibalistic creature from North American folklore.
For mine, a small detail regarding pre-production, I chose to experiment with "Midjourney", an artificial intelligence programme that we're hearing a lot about right now and that helped me to establish my concept and character design.

Find more of Pablo's productions on his Artstation profile and Instagram page.
"A really good anatomical exercise and a satisfying first experience with Maya."